Curation: Theatre503 Rapid Write Response (London, UK)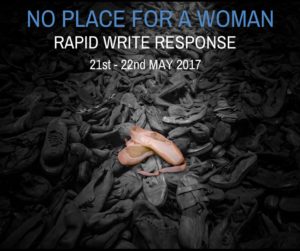 THEATRE503: RAPID WRITE RESPONSE
Writers' Night is Wednesday 3rd May
Deadline for submissions Monday 8th May (12 noon)
Rapid Write Response Nights are Sunday 21st & Monday 22nd of May @ 7:30 pm
Theatre503
The Latchmere, 503 Battersea Park Road
London SW11 3BW
About Rapid Write Response:
Rapid Write Response is a short play initiative open to writers of all levels of experience. Playwrights attend a full-run show in its first week and write a 10 minute play inspired by the production they saw.  With no limitations, they have a week to write.  The 503 team selects between 6 and 8 scripts that are staged at Theatre503 two weeks later.
Featuring a diversity of emerging an established playwrights and a contingent leading emerging female directors, the short plays featured were:
ESCAPE POD by Lucy Foster
Directed by Katie Merritt | Featuring Rebecca Louisa Briley
SATISFIED by William Berrington
Directed by Courtney Larkin | Featuring Liam Webster and Lindsey Huebner
A GRADUAL PHASING OUT by Tom Lodge
Directed by Nour-Ani Sisserian | Featuring Leo Fusco, Guy Hodgkinson, Sofie Redland and Stamatia-Ann Katriou
TEETH, SHOES by JFW Nutt
Directed by Olorunfemi Fagunwa | Featuring Reema Chandarana and Kelsey Short
THAT BLUE DRESS by Laura Shoebottom
Directed by Rosa Crompton | Featuring Bronte Tadman and Freddy Elletson
DO YOU PRAY by Yasmin Joseph
Directed by Rebekah Murrell | Featuring Michelle Greenidge and Nicole Sawyerr
THE SUBJECT by Brian Eley
Directed by Paula David | Featuring Sabrina Richmond and Kaneesha Watts
IN HER BONES by Fran Bushe
Directed by Lucy Jane Atkinson | Featuring Cian Berry and Jessica Sian
This month's Rapid Write Response is inspired by:
Theatre503 and Small Things Theatre present
No Place For A Woman
By Cordelia O'Neill
 'An officer drove me up to gates and told me to wait, that it was no place for a woman.'
The wife of a commandant is throwing a party. She asks her husband for champagne. Instead he brings home a ballet dancer from the camp. An extraordinary story that explores the strength of marital love, the redemptive power of dance, and the survival of two women who live as neighbours – but are worlds apart.
About Theatre503:
Theatre503 is one of London's premiere new writing theatres, an Olivier Award winning producing house that creates work, sources, establishes and supports creative relationships within the industry for writers, directors and producers.  Theatre503 is committed to being an open, writer/ creater-centric, veue.  Theatre503 finds, nurtures and supports writers and creators from all regions and backgrounds with a multitude of opportunities.  It is the UK's leading theatre for new writers, reading 1500-2000 unsolicited plays and launching more first productions than any other theatre in the UK. www.theatre503.com