Flausen Kongress (Cologne, Germany)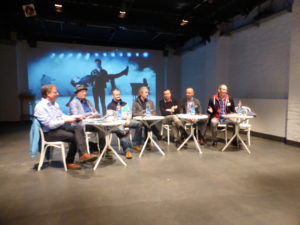 This February, I had the pleasure of attending the Flausen Kongress on behalf of The Presentation House Theatre (North Vancouver, CAN).  
Flausen is a Residency platform for the development of new theatrical form developed by Theatre Wrede + and Winfried Wrede (Oldenburg, Germany) taking the German theatres by storm.  The process driven residencies are four to five dedicated weeks of research and experimentation open to artists of all disciplines intended to be a focused research based incubator for emerging Artist Ensembles to develop new ideas, new approaches and new voices through risk.
The Flausen Kongress was a gathering of German free house Artistic Directors and Producers, Academics, Funders, Dramaturgs, Independent Artists and Creators – some of whom had participated in the Residencies, and students.  For me this became much more than learning about Flausen, but also a chance to understand the German system, its creation practices, its priorities, how and why the work is made, and learn more about the dramaturgical and playwright roles.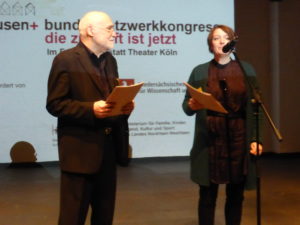 The Kongress's primary focus was strengthening the network between the free houses participating in Flausen plus improving and developing the program nationwide.  This would hardly however be the limit of discussion, presentations and seminars addressed over the three days in Cologone.  Between the seminars Werkstatt Theatre had arranged group lunches and dinners and conversations would carry on across multiple subjects.
A special thanks to Winfried Wrede of Theatre Wrede + who extended the invitation, Andreas Lübbers of The Hamburger Sprechwerk (Hamberg), Siegmar Schröder of Theater Labor (Bielefeild), Maike Tödter – a local producer and my translator who generously shared her knowledge and Dr. Gerhard Seidel of The Werkstatt Theater who tok the day off on Friday to show me around Cologne.