Main Stage 2016: The Lion in Winter (Vancouver, CAN)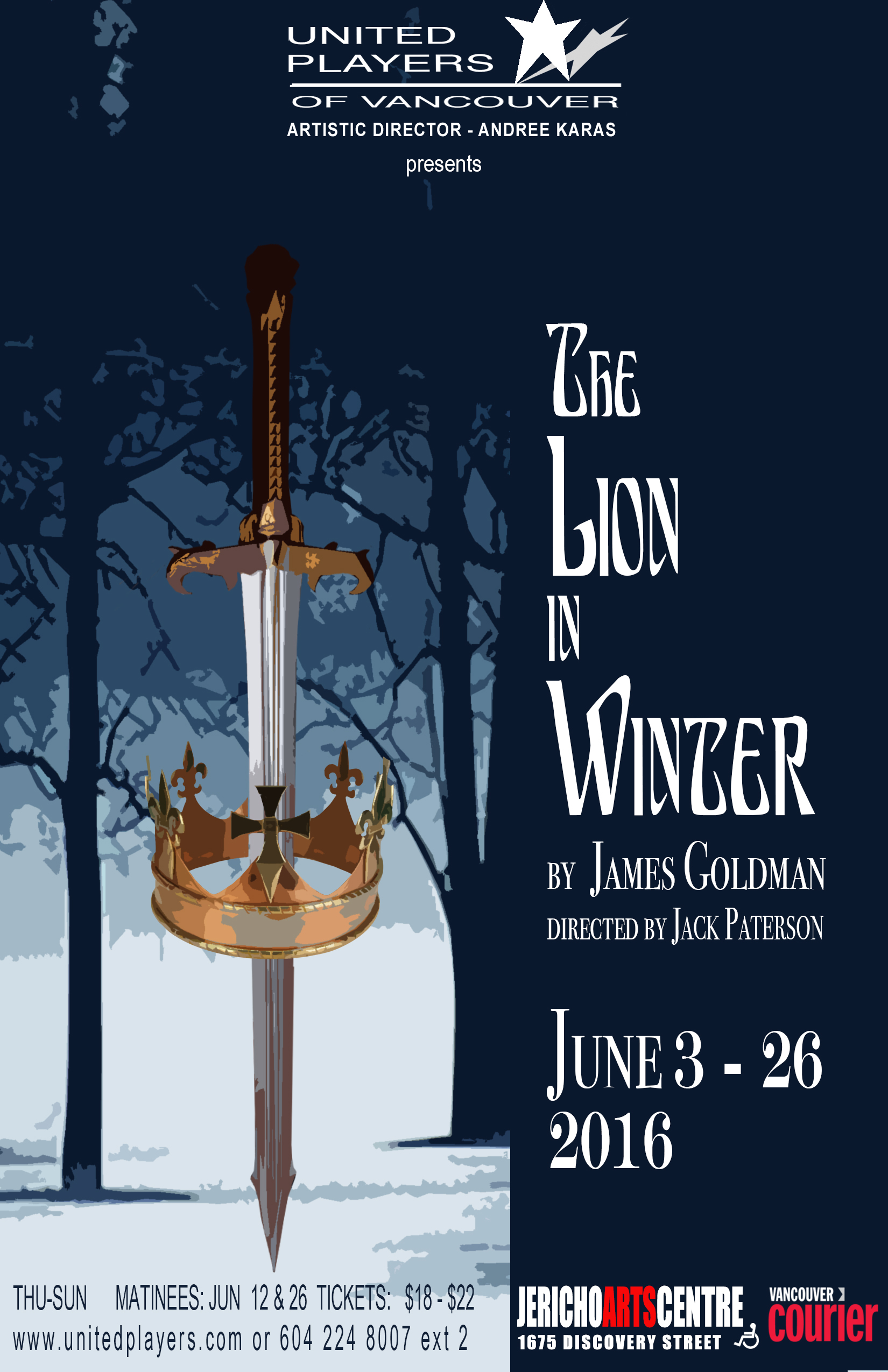 June 3 - June 26
United Players presents
THE LION IN WINTER
By James Goldman
Directed by Jack Paterson*
The Jericho Arts Centre,
1675 Discovery, Vancouver
Set Design by Marcus Stusek | Lighting Design and by Andrew Pye | Costume Design by Heipo Leung | Sound Design by Megan Lai | Properties Design by Linda Begg, Stage Management by Susan Currie | Production Management by John Harris
Featuring Marilyn Norry* as Elinor, William MacDonald as Henry* with Alexander Lowe, Dayleigh Nelson, John Macanas, Julie Disher, and Nick Preston.
Its 1183 and the future of the English Throne is up for grabs. Henry II has released his formidable wife, Elinor of Aquitaine, from her imprisonment for the winter Royal Court. They are joined by their ambitious sons Richard, John and Geoffrey. Power, intrigue and family drama as the royal family comes home for Christmas.
The Lion in Winter runs at the Jericho Arts Centre (1675 Discovery) from June 3-26, Thursday through Sunday. All performances at 8 pm except Sundays June 12 and 26, when there is a 2pm matinée (no evening performance). Tickets are $18-$22, and are available at the door.
Reservations and info: phone 604 224 8007, ext. 2 or visit [www.unitedplayers.com](http://www.unitedplayers.com).
"...witty and passionate...a stylish production..."
The Georgia Straight
"…stellar production…Incredible performances…you leave the theatre in awe …a tight, well-paced and exciting play…Don't miss it."
EntertainmentVancouver.com
"Norry is at the height of her career…a play with a lot of substance…Full of intrigue"
The Vancouver Courier
"William MacDonald as Henry and Marilyn Norry as Eleanor both are magnificent in their roles…really novel…bringing to modern life the underlying passion and emotions of the characters that humans of all ages understand…a thrilling epic drama for our times." 
Reviewvancouver.com
*The participation of these Artists are arranged by permission of Canadian Actors' Equity Association under the provisions of the Dance Opera Theatre Policy.