Main Stage 2016: Walt Whitman's Secret (Vancouver, CAN)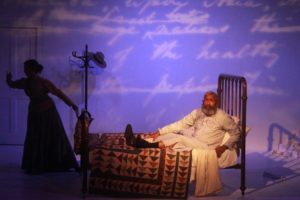 Oct 13-23, 2016
The Frank Theatre Company
WALT WHITMAN'S SECRET
by Sean O'Leary
Based on Canadian literary luminary George Fetherling's critically acclaimed 2011 novel of the same name, Walt Whitman's Secret by Sean O'Leary mines the life of the most influential poet in the American canon for insights about creativity, sexuality, relations between the sexes and the often irreconcilable tensions between idealized love and how love actually manifests. Was Whitman – one of history's most eloquent versifiers on romantic love – ever able to attain the kind of love he wrote so forcefully about?
Written by Sean O'Leary
Based on the novel by George Fetherling
Dramaturgy by C. E. Gatchalian
Directed by Jack Paterson
Featuring Conrad Belau, Adele Noronha, Kamyar Pazandeh and Tom Pickett
Set Design by Michelle Allard
Lighting Design by Itai Erdal
Costume Design by Carmen Alatorre
Sound Design by Dorothy Dittrich
Stage Management by Jethelo Espaldon Cabilete
Produced by the frank theatre company, with the support of Presentation House Theatre
Oct 14-23, 2016 (Wednesday to Saturday, 8 pm | Sunday, 2 pm)
Preview performance: Oct 13, 8pm
Gala fundraiser performance: Oct 19, 6:30pm
ASL-interpreted performance: Oct 21, 8pm
Presentation House Theatre (333 Chesterfield Ave, North Vancouver)
Tickets: On sale now through the Presentation House Theatre Box Office
This project was made possible through the generous support of our funders: Canada Council for the Arts, the BC Arts Council, the Province of British Columbia, the City of Vancouver, Metro Vancouver, Myer Leech, and Yosef Wosk; and our media sponsor, DailyXtra.com.
"...rich performances...All of the actors are compelling...Tom Pickett sports a bushy beard and a twinkle in his eye as Walt, whose mischievous charm magnetizes both Horace, played with emotional nuance by Conrad Belau, and Anne, to whom Adele Noronha brings a warmhearted, grounded presence. Kamyar Pazandeh's Pete is confidently captivating"
Kathleen Oliver, The Georgia Straight.
"...beautifully produced and performed...The physical production is gorgeous: the stark white walls of Michelle Allard's set, the expressionistic flourishes of Itai Erdal's lighting, and the wit of Carmen Alatorre's costumes, which are all embellished with the poet's penmanship. Dorothy Dittrich's sound design is subtly persuasive. And director Paterson juxtaposes the naturalism of the dialogue-driven scenes with movement sequences in which the characters almost dance as if possessed by their unexpressed longing...The frank theatre company deserves huge credit for taking on such an ambitious project."
Colin Thomas, Colinthomas.ca