Walt Whitman's Secret nominated for 6 Jessie Richardson Awards!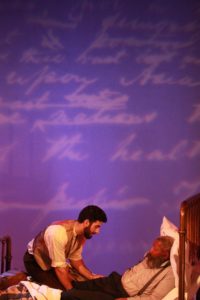 Walt Whitman's Secret is nominated for 6 Vancouver Jessie Richardson Theatre Awards including Outstanding Direction and Outstanding Production.
The nominations are:
Outstanding Performance by an Actor in a Lead Role – Small Theatre
Tom Pickett
Outstanding Lighting Design – Small Theatre
Itai Erdal
Outstanding Set Design – Small Theatre
Michelle Allard
Winner: Outstanding Costume Design – Small Theatre
Carmen Alatorre
Outstanding Direction – Small Theatre
Jack Paterson
Outstanding Production – Small Theatre
What is particularly exciting in the "Outstanding Production" nomination representing an appreciation for the dedication of all the artists involved. This project allowed me to engage with emerging Vancouver artists such as the shinning Adele Noronha, Kamyar Pazandeh and Calgary's Conrad Belau along with veteran Tom Pickett. It was also the opportunity to work again with – after almost a decade – the wonderful talents of Itai Erdal, Carmen Alatorre and Dorothy Dittrich.
It is an additional delight to see among the nomination for visual, sculpture and installation artist Michelle Allard and her set design. I have been seeking the opportunity to engage non-theatre artists in the theatrical conversation and bring the perspectives of other art forms to my practice for some time. Michelle's participation in the project brought unique discussions and perspectives and I am thrilled her work has been recognized.
A special thanks to C.E. Gatchalian and the frank theatre team for making the project happen, playwright Sean O'Leary and novelist by George Fetherling for the words and inspirations, and The Presentation House Theatre for being such wonderful partners.
A huge congratulation to all this years Jessie nominees!
About the Jessies:
The Jessie Richardson Theatre Awards exists to celebrate and promote the outstanding achievements of the Vancouver Professional Theatre community. www.jessies.ca
Additional:
Thoughts on Diversity: Casting Walt Whitman
---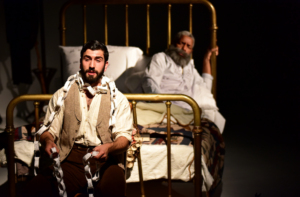 a frank theatre company
WALT WHITMAN'S SECRET
by Sean O'Leary
Oct 14-23, 2016
Based on Canadian literary luminary George Fetherling's critically acclaimed 2011 novel of the same name, Walt Whitman's Secret by Sean O'Leary mines the life of the most influential poet in the American canon for insights about creativity, sexuality, relations between the sexes and the often irreconcilable tensions between idealized love and how love actually manifests. Was Whitman – one of history's most eloquent versifiers on romantic love – ever able to attain the kind of love he wrote so forcefully about?
Written by Sean O'Leary | Based on the novel by George Fetherling
Dramaturgy by C. E. Gatchalian
Directed by Jack Paterson
Featuring Conrad Belau, Adele Noronha, Kamyar Pazandeh and Tom Pickett
Set Design by Michelle Allard | Lighting Design by Itai Erdal | Costume Design by Carmen Alatorre | Sound Design by Dorothy Dittrich | Stage Management by Jethelo Espaldon Cabilete
Produced by the frank theatre company, with the support of Presentation House Theatre
"…rich performances…All of the actors are compelling…Tom Pickett sports a bushy beard and a twinkle in his eye as Walt, whose mischievous charm magnetizes both Horace, played with emotional nuance by Conrad Belau, and Anne, to whom Adele Noronha brings a warmhearted, grounded presence. Kamyar Pazandeh's Pete is confidently captivating"
Kathleen Oliver, The Georgia Straight.
"…beautifully produced and performed…The physical production is gorgeous: the stark white walls of Michelle Allard's set, the expressionistic flourishes of Itai Erdal's lighting, and the wit of Carmen Alatorre's costumes, which are all embellished with the poet's penmanship. Dorothy Dittrich's sound design is subtly persuasive. And director Paterson juxtaposes the naturalism of the dialogue-driven scenes with movement sequences in which the characters almost dance as if possessed by their unexpressed longing…The frank theatre company deserves huge credit for taking on such an ambitious project."
Colin Thomas, Colinthomas.ca